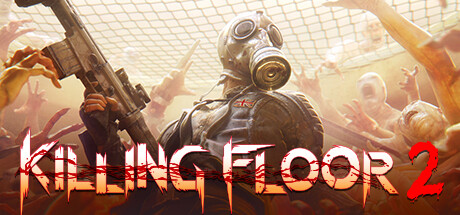 When I received Killing Floor 2 in a mystery bundle, I was instantly saddened. I personally am not a fan of horror games, so I thought that I would never be touching this one. Now, after playing it for 4 hours straight on Sunday, my opinion of this game has definitely changed for the better.
Killing Floor 2 is less of a horror game and more like COD Zombies. It has some blood and gore, but it doesn't have jump scares and scary passageways. What also helps is that you are always playing with a team, so your focus is on the game and staying alive rather than on the creepy monsters around you. My only suggest would be to not play this game if you are afraid of clowns, this game seems to love the clown zombies the most.
I think one of my favorite parts about this game is the different maps. The first map I played with my friend was a Christmas-themed one. The zombies didn't look festive, but you were in Krampus' lair. Creepy Christmas rock music played throughout the match, and little threats from Krampus to the elves were written throughout the workshop. Then, there was the Santa's Workshop map where you escort a carriage with a bomb throughout the map. This one had the epic Christmas music PLUS Christmas-themed zombies! I think my favorite zombie on this map was the gingerbread man.
There is voice chat in this game, but it isn't used very frequently. If you would like to just be able to play on a team without having to talk to people, that is fine as well. You will do fine on your own as long as you stay fairly close to your teammates or have upgraded guns. And the teammates in this game are pretty welcoming to newcomers, and the healers seem to also be fairly good. It was easy to get very sucked in!
This game also has a system of "perks" almost like Dead By Daylight. The more matches you play, the more XP you get, and you can add perks to your classes. This makes the overall game easier to play, and makes you want to stick with one class long enough to get more and more perks for it. This system also makes me want to play Dead By Daylight, which I have been putting off for almost two entire weeks!
My only real complaint would be that the bosses seem a bit repetitive. I know I have to up the difficulty, but I thought that there would be a bit more random-ness to the bosses. I played the game for 4 hours and had about 6 or 7 matches, and fought the same boss in 2 and then another boss 3 times in 3 different maps. Would be interesting to at least be able to see how the different bosses work and tick.
Overall, would definitely recommend this one. Follow my stream https://www.twitch.tv/briennaij to see when I am going to play this live next!
Overall Rating: 10 out of 10 controllers.