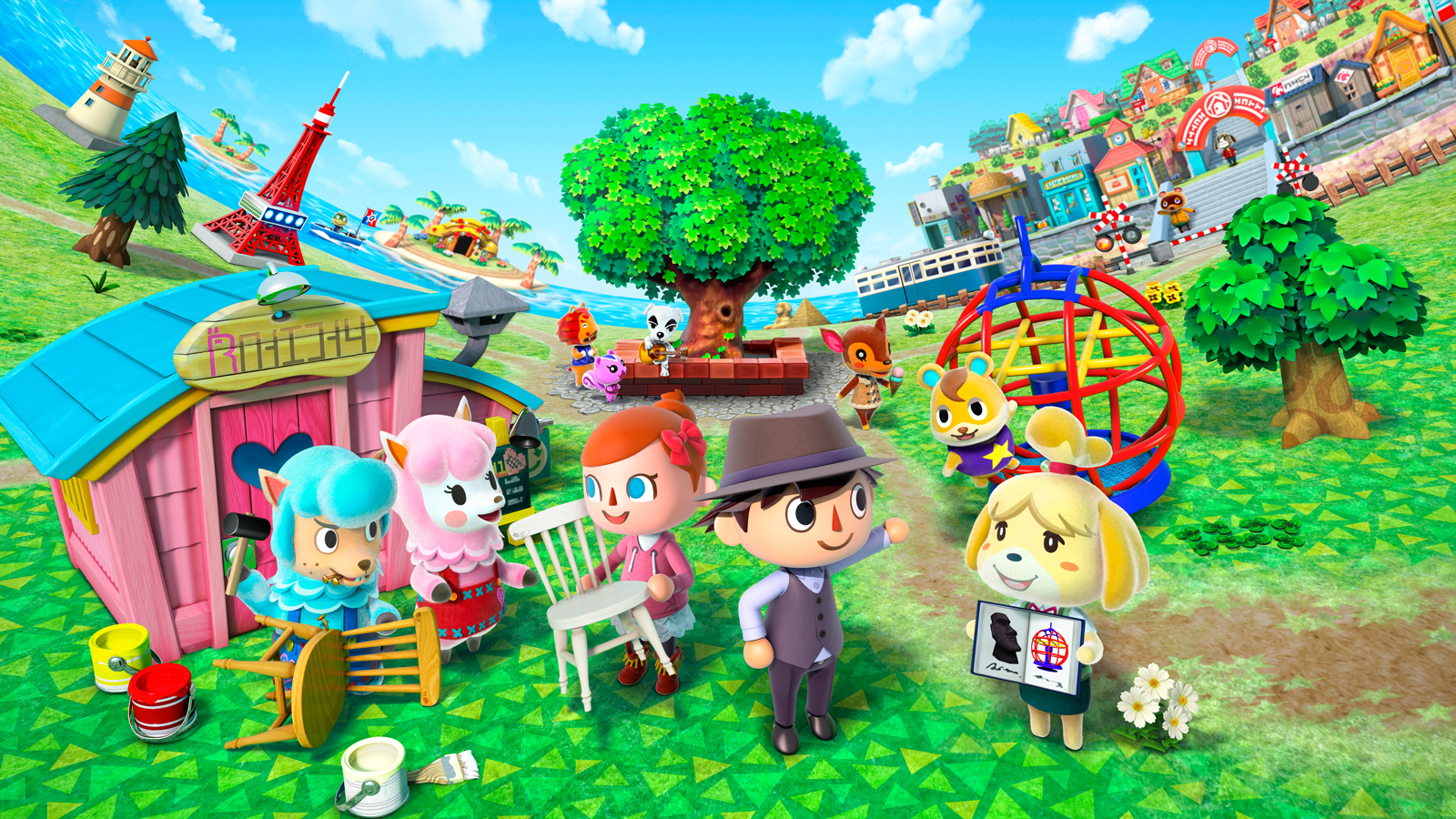 I haven't spoken about Animal Crossing in a while, but it is my absolute favorite game series. I have played every single game except for Amiibo Festival (which doesn't really count as an Animal Crossing game in my opinion). I know which parts of each game that I liked, and parts that I disliked, and parts that I hope will be in Animal Crossing for the Switch that is supposed to be coming out later this year. For the next 3 Video Game Tuesdays, I will be focusing specifically on Animal Crossing, and going through these topics on all the games. The first one is all the stuff that I didn't like about each individual game.
If you missed my post from last week, check it out first!
Animal Crossing New Leaf
Finishing The Game
In most Animal Crossing games, there was no way to finish the game. There still isn't any way to finish the game in this installment, but you do get to a point where there is just nothing to do. One summer, I was on ACNL almost every day. I was a part of a trading company where we would give items to whoever asked. Someone would have a hacked DS so they could spawn in infinite items, and then we would go back and forth getting those specific items to anyone who wanted to decorate their town or house and couldn't find them in game. The items were given for free because we got them for free. No one would actually ask for real money, it was just an easy way to get items for your house. Everyone was so nice on the forum, so they would always tip the delivery person with something.
I made millions of bells and many friends just delivering stuff to people, and I made many friends. I got hundreds of flowers and furniture items, and everything was great.  I would be meeting up in different towns every night, fishing, doing minigames, catching bugs, and having a great summer time.
Then the fall came. Most people went away, including me, because we had school. Then I went back to my town. I felt like I had everything, and this wasn't a good thing. I felt like there was nothing left to do in the game besides….restart. So I restarted the game for the first time in 2 years. 2 years! I didn't even know what I was doing.
Now, I have a new town. I've had 2 new towns in the past 2 years, and I have barely played them at all. It is so boring to start from the beginning, even though I thought that was what I needed. After having fun with friends in the game, I felt as if there was no fun in singleplayer anymore.
I hope to be able to get addicted to Animal Crossing again sometime, but I may just have to wait for the next installment for that wave of joy to come. This might not be a problem with the game, it might be a problem with myself, but I know many people who have had something similar occur. The game is amazing, but I felt like it did reach an "end." The other Animal Crossing games have memories that make me want to go back to them, but when ACNL gets old, I just don't feel the need to go back to it.
Animal Crossing Happy Home Designer
Nothing To Do
There is literally nothing to do in this game besides decorating homes. I spent a bit of time in the other Animal Crossing games decorating my house, but that wasn't the main focus in the other games. Even though this was sold like a fully priced Animal Crossing game, it was really about 10% of a game. You only got to see the villagers when you went to decorate their houses, and then you would just have little snippets of conversations. Then you would just go back to the office to work for another villager. You never had a house of your own, never had friends of your own, it was just go to work and then go back to the office, watch time pass, go to work, go back to the office, watch time pass. It became a rather dreary cycle, I think I only played about an hour or two of this game before I gave up. This was definitely the least amount of time I had ever spent on a single Animal Crossing game. Such a letdown.
Even if they wanted to do a game based on interior design, fine. That's cool. But give it some extras! Maybe you can have your own house, and throw different themed parties to invite villagers. Maybe you have to do minigames and throw contests to win popularity with the townsfolk. Maybe you can constantly upgrade the office until you are traveling across the world to decorate houses of international villagers. Maybe you eventually move to landscape outside and building houses or mansions. This sounds ambitious, but if you are going to market it as a full game, don't just make it designing rooms!
Pocket Camp
Cash Grab
I know I said that Happy Home Designer took about 10% of what made Animal Crossing the game it was and tried to make it a full game. Well, this game took less than 5% of what made Animal Crossing what it was and tried to make it a full game.
Let's start with the easy part. I like to go fishing and to catch bugs in Animal Crossing. These are ways to pass the time and have fun when there isn't something that you have to specifically be doing in the game. This game takes those away. You can collect fruit or catch fish or catch bugs, but only a certain number every few hours. Eventually, that "hot spot" runs out. Then you have to either wait 2-3 hours, or pay money.
Everything on Pocket Camp is on a timer. You have 2-3 sites where a villager could randomly spawn, and they will ask you to do things. You have to craft furniture, or get them fruit, or get them bugs, in order to ask them to move into your "camp." You can't have infinite people in your camp, so if you are at the limit, they just go into your cache so you can pop them into your camp whenever you want. But, if you don't catch the villager during their time limit in the campsite, then you have to wait for them to reappear. You probably won't have to redo the quests, as the level of friendship will remain the same. But this makes you want to rush or pay money to get things done quickly so that you can get your villagers into your camp faster. I haven't even mentioned the fact that these villagers want specific items in your camp to be placed! So, sorry if you were going for a mettalic theme, pretty kitty wants a flowerpot and she won't move in until you place that flowerpot. It takes away your right to decorate your Animal Crossing house the way YOU want to decorate it.
Also, there is no multiplayer in this game. I was so looking forward to getting to play with my friends, but it just doesn't work that way. You can only friend them to visit their town, see how they decorated, and see what villagers they have. It's basically an art gallery. Oh, and you can also buy some meaningless fruit and shells from them if you don't want to pay money, but you also need your cash for other items. You just can't win in this game. I hope that this isn't somehow implemented into the new Animal Crossing game, I would be so disappointed.
---
Alright, so this is the end of the line for things that I didn't like in Animal Crossing games. Next week will be on a much happier note as I start to talk about things that I did like in Animal Crossing games! I will definitely have to split the posts up again, as I clearly have a lot to talk about in each game. Thanks for reading!