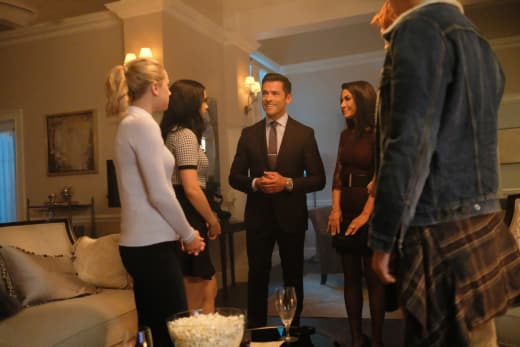 Kevin hears the gunshot in the woods from Midge & Moose's car and goes to see what happens. Moose covered Midge, so only he got shot, but he is rushed to the hospital and survives the attack. After this, Archie decides that the football team, filled with the strongest boys in the town, ought to form their own team to try and help fight the Black Hood. So he forms the Red Circle, and films an intimidating (ish) video where all of the members of the football team stand bare chested with red hoods on their heads and vow to protect Riverdale.
Alright, so the Red Circle video was hilarious, I found a clip of it, just skip to the end, I was just laughing. Like in the show it was supposed to be intimidating but it was simply funny to me.
Anyways moving on, Betty and Kevin are having a spat of their own, as Kevin keeps going into the woods to find men to…well to find men to hook up with, there's no better way to put it. Betty believes that this is dangerous, as the woods are where people think the Black Hood is hiding, plus the men might be dangerous. However, Kevin is feeling lonely as one of the few gay men in his hometown, so he does it until Betty tells his father and Kevin almost has a dangerous encounter.
Jughead is still at the Southside High, where he has befriended Toni, a female Serpent, and has restarted the school newspaper. He doesn't want to be associated with the Serpents, but he soon realizes how dangerous it is for him to be alone.
My favorite part of this episode was definitely Kevin's arguments with Betty. Even though Betty was butting in and eventually really hurt him, she did end up possibly saving his life, by giving him a sense of caution when he was going into a car.
Overall Rating: 5/5