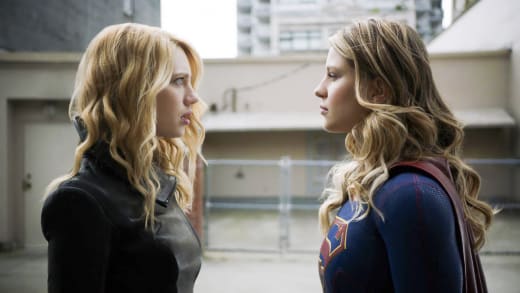 Supergirl must battle Psi, a villian who can make you see your worst fears. This is something even Supergirl struggles to fight, especially as she is still working on getting over the fear of what happened to Mon-El after she sent him off.
Lena and James are butting heads, as Lena wants to be involved in the running of CatCo, and James wants to be completely in charge as he has been since Cat left.
Ruby and her mother Samantha struggle as her mother has just received a new job and Ruby gets into a fight with a girl at school about whether or not her mom  has superpowers. When Ruby puts herself into danger, it is up to Samantha to save her again.
I enjoyed this episode a lot more than the season premiere. This episode truly showed how fear and anxiety can affect anyone, including superheroes. My favorite part of this show was when Samantha saved her daughter, even though we still do not know what causes her superpowers. Ruby made me a bit angry in this episode, as she purposefully put herself into trouble in order to be "saved" by her mother. This would be fine if she was supposed to be like 5-9 year old. However, the actress is 13, and looks to be at least 12 if not older. SO this just seems like a middle schooler  having a very immature temper tantrum. This did not taint the episode for me, as I still enjoyed the storyline very much, but it was worth mentioning.
Overall Rating: 4.5/5