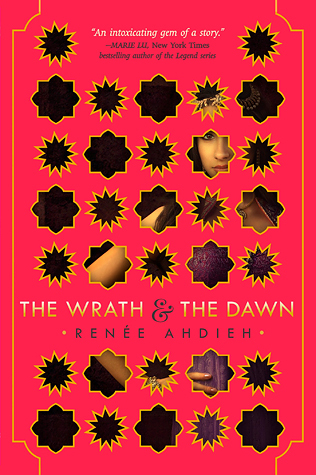 Khalid, the 18 year old king, has a habit of marrying his wives in the afternoon, taking them to bed that night, and killing them in the morning. One of these brides happened to be sixteen year old Shahrzad's best friend, and she is determined to get revenge on Khalid for her and the other brides who were murdered before her. However, once she gets to the castle, she is brought to bed with Khalid, but as she is leaving she decides to tell him a story. Leaving the story on a cliffhanger, she tempts him into allowing her to live for once more day in order for her to continue the story.
She befriends her maid, the cousin of Khalid, and the more she stays there the more she realizes that there might be more to Khalid that the murdering psychopath that he seems to be. She even finds herself falling for the troubled boy against her will, and wonders how she is going to follow through with her original plan of killing him. Her old friend Tariq, also brother of the best friend who was killed, is desperate to find her and save her from Khalid before she comes to the same fate.
I enjoyed this book, not only because of the compelling plot and the unique characters, but because of the plot twist that occurred near the end of the story. Although there was a bit of a love triangle in the book, but it didn't interfere with the plot much as it still focused on Shahrzad and Khalid, not Shahrzad and Khalid. My favorite character was most likely the maid of Shahrzad and Shahrzad herself, simply because the maid gave Shahrzad the friendship she needed during her time in the castle and also had an interesting story that I enjoyed to follow throughout the duration of the book. Although this book is technically supposed to be a retelling, I didn't feel much of a retelling vibe, it felt like a unique story within itself. Altogether, a wonderful book, I definitely recommend it.
Overall Rating: 5/5